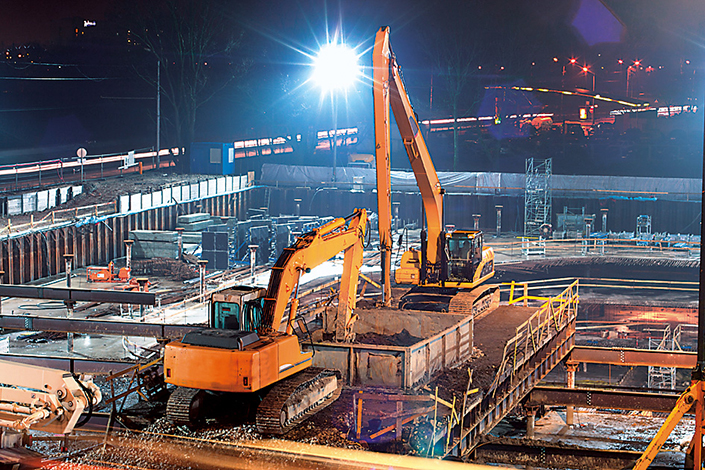 Temporary lighting arrangements are generally installed on a work site such as a construction place or shipyard to provide lighting for a limited amount of time till a specific task is completed. These temporary lighting arrangements can be quickly installed and easily dismantled after the work is completed to ensure maximum illumination while working. 
The best type of temporary lights comes with heavy-duty guards to secure individual lights from damage. They can be used in areas where adequate illumination is necessary to carry out critical work efficiently and safely. You can choose from a wide range of options available in construction string lights but make sure you opt for a reliable brand.  
Support for Temporary Lighting
For medium-type light bulbs, pin-type sockets are usually recommended. Pin-type sockets are available with or without hooks. Some bulbs use pigtail sockets. They are connected to bulbs using leads linked to an electrical connection. They can help in the temporary illumination of your site. 
Studies show that quite a few construction sites in the US are not adequately illuminated and do not comply with the OSHA standard for general construction illumination. It is important to provide temporary lighting to provide workers with a sense of safety and create a productive work environment. Contractors and owners choose various methods for providing temporary lighting for construction sites. But most of the time, they do not succeed in meeting minimum lighting requirements. 
Proper Planning Can Make Your Site Fully Illuminated
Construction sites have an ever-changing environment. This entails using various types of lighting solutions to match the changing demands of the site. It is possible to provide adequate lighting if the process is planned correctly. Worksite managers must be aware of how to achieve maximum illumination through the proper placement of fixtures. It is also important to plan properly ahead to avoid the constant movement of light fixtures as it can not only be hassling but also time-consuming. 
Install Lights Before You Install Anything Else
Temporary lighting systems must be planned and installed on an open site before the interior installations are done to ensure maximum benefit to the workers. When the internal work commences, they can block the path of light. Streamer lights with grommets attached to the cord allow the height of the temporary light system to be adjusted based on the changing needs of the site. 
Construction site managers must ensure that all areas where work is being carried out, including exits and entrances, are adequately lit. LED bulbs are highly recommended as they come with many benefits that other bulbs do not offer. Bulbs protected by cages help guard them against damage. 
Choosing the best supplier or manufacturer is crucial if you want to get the best value for money while buying construction string lights. Duraline is one of the country's most popular and dependable names in electrical products. You can get everything you need in electrical products in one place when you shop at Duraline.