Running a business can be quite challenging. If you are on the lookout for ways to get the most out of your website, here are some solutions to advance it. But before that, it's essential to find out your website's conversion for a start. 
Getting acquainted with the conversion rate
The conversion rate provides you with information on how many users completed the desired action, for example, bought something on the website. If you'd like to know how to calculate the percentage of your conversion, just divide the number of purchases by the whole amount of visitors and multiply it by 100. 
For example, suppose your website gets 300 visitors per day, 30 of which buy something. With a simple calculation (30/300×100) your daily conversion corresponds to 10%. So, if you convert about 2-5% of all engagement it's considered to be a good average. Based on the latest survey Walmart's conversion on the website is about 4.5%, but this number can be even higher. 
5 CRO tips to steal 
Knowing the percentage of the conversion rate is the first step to improve it. Following some hacks mentioned below will help your business to advance even further. 
1. Add pop-ups to your website 
Some may say that pop-ups are rather controversial. Well, yes, unless they offer value or provide a customer with relevant information. 
Put aside a hard-sell approach and focus on creating a better and more friendly user experience. A discount for newly landed visitors, a subscription in exchange for a gift, or a free trial are often enticing. Various studies show that the rate of customers' engagement increases significantly if they get some kind of offer. 
One more way would be adding smart pop-ups for cross-selling or up-selling. The difference is when you cross-sell, your customers are presented with complementary or related items to the one in their cart, while up-selling means notifying them about more innovative products. 
And just like that Victoria's Secret offers to finish the look by displaying some related items, that potentially may go as a bundle.  
2. Show relevant reviews 
Satisfied customers that share their buying experience can turn into an essential component of your marketing. Consider adding a special section or ever using testimonial pop-ups to show some feedback related to the goods in question. 
If a client experiences some sort of hesitation, honest reviews with a product or service description can dispel all doubts. As an example, Fabletics, integrated with Instagram, uses a website footer to place some real-life pictures from the clients in their brand's clothes.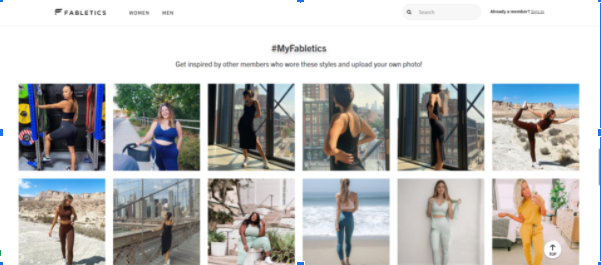 3. Create human touch with live chats
Think about implementing a live chat to your website to uplift customers' satisfaction with the process. You can trigger it after some time or just place a live chat button in the down right corner so that whenever there is a need for support, website visitors could get a response in no time. 
The Casper website provides a live chat with a manager previously asking about a customer's current inquiry to redirect one to the right personnel.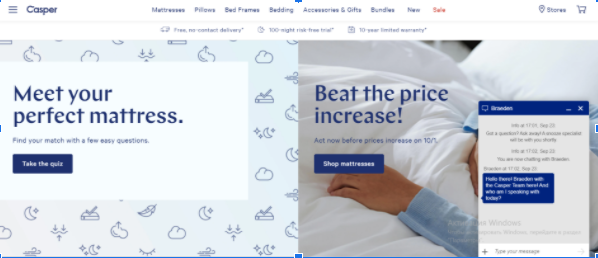 Also, consider integrating live chats with Facebook Messenger to ensure prompt replies. As of Forrester's survey, 53% of customers are likely to abandon their cart if it takes too long to get a response from the company. Live chats are intended to prevent this from happening. 
4. Make it easy to buy
Simplify the procedure of getting a product or service. Make it possible to buy without prior registration and filling out long forms. When purchasers are landed on your website for the first time, they can be vague about committing time to this process in the first place. 
As an alternative, consider providing a possibility to sign up with other services like Facebook or Google Account. It means less time and effort from one side, but a great advantage for the other. 
5. Emphasize warranty
Crystal-clear terms of buying, refund, or rebate are as important as everything else. Some clients are hesitant about online shopping as they can't physically perceive the product. 
Try to draw attention to your return policy if the product didn't live up to the expectations or wasn't somehow what a customer wanted. Highlighting all the conditions will strengthen your credibility as a retailer and will lead to better conversion and consequently higher revenue.   
Mobile apps as the next step 
Usage of a mobile app can take your business to the next level, as it helps your business to function even more efficiently. If you run several projects simultaneously, a mobile app will store everything in one place so that you won't have to scatter your attention. 
Mobile apps also enable you to stay in touch with your prospects regardless of time and place. Moreover, this tool allows tracking visitors' behavior like their customer history and visits. Owning such information means that you can get insights into the business and enhance the strategy if needed. 
Wrapping it up
Numerous factors influence the conversion of your website. Choosing the proper tactic can optimize your website and yield the most from your efforts. 
While discounts or gifts presented with pop-ups can serve as a gimmick or stimulus to buy, live chat solutions alongside an easy registration layout create a better user experience. With mobile apps, everything stated above can yield even better results due to high efficacy. 
You can also read this